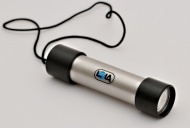 LOLA FOKUS - compact backup light
Hersteller:
LOLA
Kode:
Lola_Fokus
Gewicht:
0.12 kg
Lieferungsfrist:
Auf Lager
Garantie:
24 Monaten
Preis ohne MwSt.: 89.26 EUR
Preis mit MwSt.: 108.00 EUR


Really small and robust backup light long only 115mm with diameter 24mm.
Body from stainless steel with delrin ends.

Weight in water only 70g!!!

Can be mounted on mask strap.
Push-button can be operated only with one hand.

- Three lighting programs
1. 10% power 0.05 A (20-60 hours)
2. 100% output 0.5 A (1-3 hours)
3. SOS mode (100% - flashing in the 4 x 65ms interval
65ms, and pause ½ seconds 5-15 hours). see Video

Light FOKUS tested up to depth 200m.

Powered on three AAA alkaline cells.

Die zusammenhängende Ware